North Coast Bolt and Hardware offers all Simpson Strong Tie products, as well as all construction bolts required to do your project right. Come by and see the display wall or give us a call for any questions, regarding your hardware needs. Catalogs are always free for viewing Simpson product line off-site.

Some items that appear on wall below, are currently out of date and may not be available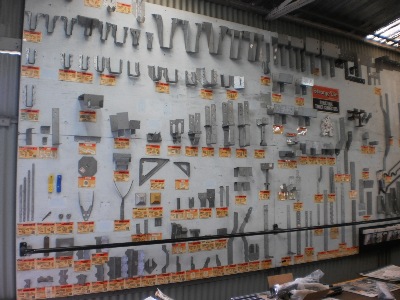 Simpson offers a wide range of products, and even offers custom brackets and Special Orders that are not standardly listed in the catalog. Please ask our sale people, and they can assit you by getting a custom order quote to meet your needs.

Let North Coast Bolt be your local connection to Simpson Strong Frames, we can order, and receive shipments right here in Santa Rosa.

Take a look at the Simpson links below

www.strongtie.com

And for Strong Frame Installation see

www.strongtie.com/videolibrary/sf-install.html



Fully loaded Mezanine, complete with most commonly ordered Simpson items in stock. Anything not in our mezanine, can be ordered directly from Simpson, saving you MONEY. Usually arriving in one to two business days.

Full catalog at
www.strongtie.com/literature/c-2011.html


Our line of bolts starts at 1/2" diameter, 1 1/2" long, and goes all the way up to 1" diameter, 12" long. Special orders for larger, and more unusual bolts are no problem either.

All bolts come in Plain, Zinc Plated, or Hot Dipped Galvanized for what ever your building requirements may be.
We also carry the coresponding nuts for all bolts specified above, also in Plain, Zinc Plated, or Hot Dipped Galvanized, to match which ever bolt you require.
Lets not forget, we also stock and carry Anchor Bolts, in Plain, or Hot Dipped Galvanized finishes for any requirement you night need. Sizes ranging from 1/2"x 6" up to 1"x 24".

Special Anchor bolts can also be fabricated, on site, to meet specific needs as well.